We are glad to invite you to visit our stand No. 5c, 18a at the 37th International Scientific & Expert meeting of gas professionals 2022 which will be held in Opatija, Hotel Adriatic, from the 11th to 13th of May.
The 37 th International Scientific and Expert Meeting of Gas Professionals is the three-day international gas conference and exhibition in Opatija, organised by the Croatian Gas Association (CGA), a member of the International Gas Union (IGU), and the Croatian Gas Centre Ltd, is one of the largest of its kind in Southeast Europe.
During the 37th International Scientific & Expert meeting of gas professionals 2022 we will present the modern technology for corrosion protection and prediction as well other Feromihin's servicies and solutions such as a new production line for electronic components and eLBC devices.
KEY FOCUS DURING THE EVENT:
STOPAQ® – Visco-elastic Corrosion Prevention & Sealant Technology. A broad range of innovative and patented products with unique, fluid-like properties. STOPAQ systems protect against the ingress of water, oxygen and bacteria, and are the most environmentally friendly corrosion prevention systems in the world.
AYMO – PIPELINE INTEGRITY MANAGMENT SYSTEM WHCIH WILL BE THE TOPIC FOR ROUND TABLE WITHIN THE EVENT.
ROUND TABLE: Digitalization on of Maintenance in Transport Distribution Systems
DATE: 12.05.2022. AT 11:11h
SHORT OVERVIEW:
Digitization of maintenance of transport distribution systems through modern applications with respect for knowledge and experience from the real sector in order to monitor work processes through the application and provide conditions for digital monitoring of the life cycle of the entire system.
Asset management is a system for tracking and monitoring the resources of available companies, whether fixed or mobile, to better record the current status, history of each resource and better plan preventive or predictive maintenance.
In addition, the software provides the user with information on the state of the resource, current location, history of use, then allows accurate planning of prescribed maintenance and procurement of necessary spare parts or materials, without unnecessary accumulation of inventory.
Main functionalities:
• Asset management
• Preventive overhaul
• Work orders
• Consumables / Spare materials and inventory
• Teams and performers
• Reports and statistics
• System management
AYMO – pipeline integrity management system is our web application and besides presentation in attachment below you can find short description about it.
Our "AYMO" PIMS solutions is a modern platform specifically targeted for pipeline operators and integrity engineers which would be comprised of assessing risk and handling pipeline integrity operations.
The platform encompasses a wide range of functionalities in handling the full life cycle of a given pipeline and some of those include:
1. monitoring all pipeline elements
2. prediction of corrosion growth
3. organizing complete pipeline documentation
4. planning all necessary reparations
It is fully Cloud friendly, Web browser responsive and globally accessible to operators and technical personnel:
● SAAS (Software as a Service)
● VPN (Virtual Private Network)
● Vendor Neutral platform that ensures the data import of any provider
The platform offers a possibility to create virtual pipeline from the most basic level Real pipeline model
● Step by step element building
● Allows the usage of old data
● Re-routing of the pipeline – modifications between two inline inspections:
○ Allows data import of all modifications that were created in the meantime
○ GIT-like function – all changes are recorded with full traceability (execution, time and pipeline condition)
Key benefits of "AYMO" software:
● Anticipates and simulates critical points in the future and prevents them immediately.
● Maintains updated infrastructure information for certain and accurate decisions.
● Corrosion growth control as a measure for environmental protection in the case of hydrocarbon leakage.
● Repair plan creation process reduced from 3 weeks to 3 hours.
● Finds optimal cost of repairs through proposed repair material and method of repair.
● Removes the need or postpones upcoming ILI inspections due to predictive analytics.
● Prevents huge costs in case of leakage detection.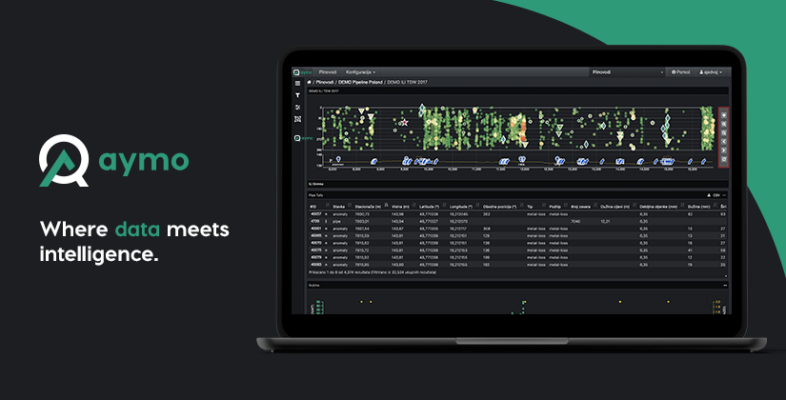 Looking forward to meet you there!